COMPANY IN BRIEF
PTS Technologies Pte Ltd ("PTS Technologies") was established in 1994 with the goal of bringing excellent manufacturing services and quality products to our global customers.
PTS Technologies has office and partners strategically located in different countries across all continents, demonstrating our global presence.
Since its inception, PTS Technologies' primary focus has been to offer a spectrum of quality manufacturing services and products, ranging from OEM, ODM, Re-engineering, Research & Development to PTS Designed RFID & Sensor devices for Iot solutions, which meet the needs of our technologically advanced worldwide clientele.
PTS Technologies- A brief profile of the Company:
Year Established: 1994
No. of employees: 28 (HQ), 220 (Factories)
Manufacturing sites: Singapore
Head Office: Singapore
Overseas Sales Offices: Thailand, UK, Europe, USA, NZ, Australia, Brazil
Certifications & Awards:

ISO 9001 (PCBA/Box-build/Engineering Design & Development)
ISO 13485 (manufacturing for medical devices)
ICAR/JCR/ PAS 66: 2009/ NAIT (RFID solutions for animal livestock).
Design Awards for RFID Innovation:

New Zealand (Cert: 414973)
Australia (Cert: 335029)
Canada (Cert: 144038 & 144039)
Patents. RFID Devices:

Single loop EID ear tag for small animal
Dual tag (Visual & EID) ear tag for sheep/ goat
EID Button cattle tag
NFC/LF animal tag (in process)
LoRa Sensor Technology (in 2017)
Patents Pending.

Temperature sensing Boluses
Temperature/ RH sensing with LoRa
Tissue sampling DNA tag
Customers-base: Major customers includes ClearOne Inc, Value Max, D&K Engineering, Texas Instruments, Symtag, HDB, Dalton, Agri-Research NZ, and many more.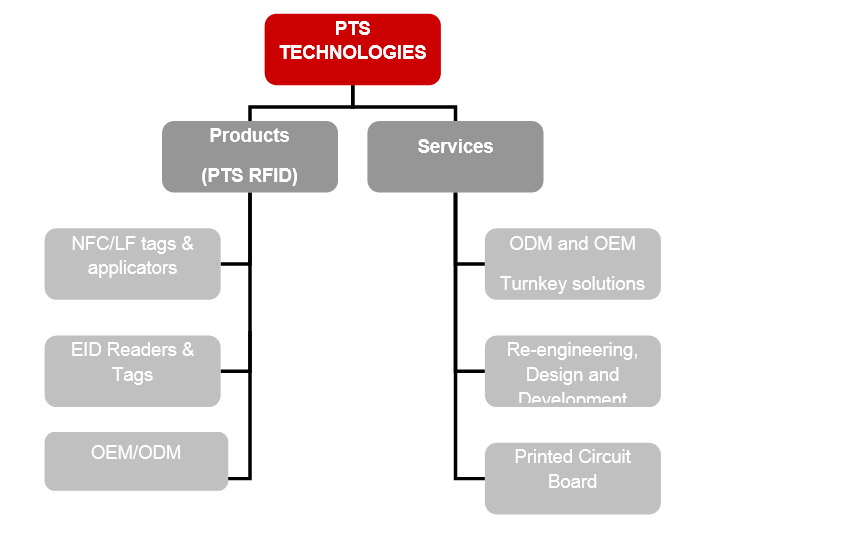 PTS Technologies (HQ)- Singapore
No. 2 Kaki Bukit Avenue 1. Unit 04-05. Singapore 417938
T: +65-67494474    F: +65-67494414