Sheep EID Readers just got Smarter and Cheaper!
Countryside Services, FarmWizard, PTS and Phone Trader have teamed up to deliver a new low cost solution that allows sheep farmers to use their Smartphone to communicate with a sheep's electronic ear tag. By bringing together these specific partners to form Countryside FarmWizard they are able to offer a complete package providing farmers with premium equipment at an affordable price.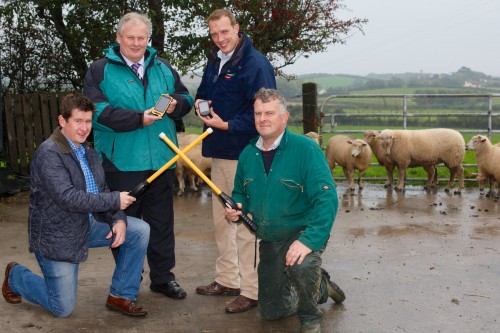 The new package contains:
1) A rugged android smartphone.
2) A simple to use Smartphone App with FarmWizard software
3) A bluetooth stick reader
How it works, The phone comes with the App already downloaded and is paired to the stick reader using Bluetooth, this enables the user to add new sheep to an electronic flock book, record sales and deaths and allows for common flock management operations such as the recording of treatments and stock taking of animals. Historic information about individual sheep may be retrieved and displayed on the Farmer's phone simply by scanning the Electronic tag. Information recorded on the phone is then available for the farmer on the main FarmWizard website where it may be analysed or in the case of a flock book printed out and presented during a ministry or Farm Quality Assurance inspection.
The new App's offline access ability allows for information to be accessed and recorded, without a data connection, which can then be synchronised when within 3G or Wi-fi coverage.
Kircubbin beef and sheep farmer Sam Chesney one of the first farmers to try out the new solution said that he through the technology was great. "All parts of the solution are ideally suited for farming, the phone is rugged, the FarmWizard app is easy to use and links seamlessly with the Stick Reader. Recording information using the Stick reader to scan the tags was surprisingly straightforward."
John black Countryside Services UK sales manager commented " most of us use a mobile phone these days so we thought why not bring together a group of specialist partners who can offer a complete package that is firstly useful and secondly relatively inexpensive. The interest in this has been quite remarkable as farmers are seeing the benefit of not only the farm software but also a phone that is designed to survive in a farm environment with a unlimited usage contract which means no more expensive phone repairs or unexpected large bills at the end of the month"
Farmers have an option to upgrade their App to allow them to record and maintain other sheep or beef data such as weights and carcass information making it easy to build performance information. This allows farmers to make better buy, cull or breed decisions when analysing the weight gain charts and reports available to provide a better return on cost.
Electronic tags now provide almost error free individual identification, making the process of managing treatments, weights and performance recording for the whole flock achievable without being labour intensive. As a result, farmers are more inclined to record animal data on a regular basis leading to more accurate performance monitoring of the flock.
UFU President Harry Sinclair commented " with EID tagging being compulsory this gives farmers a management tool to use the legislation to their advantage. The price makes it ideal as a first time system for someone who is looking to make better use of technology to increase productivity and profitability" .
There is a 15% discount for UFU members available until December 31st. Quote your membership number when ordering to receive your discount.